What is Otasuke Kototen ?
Kototen Series No.1 "Otasuke Kototen" is an app for smartphones co-produced with the NPO "pulusualuha". We have edited the wisdom as an encyclopedia necessary for the teenagers facing challenges in their daily lives.
It also contains materials that can be "custom-arranged", such as a list of contacts in case of trouble.
The author, Chiaki, is a psychiatric nurse. She is also in charge of all the illustrations.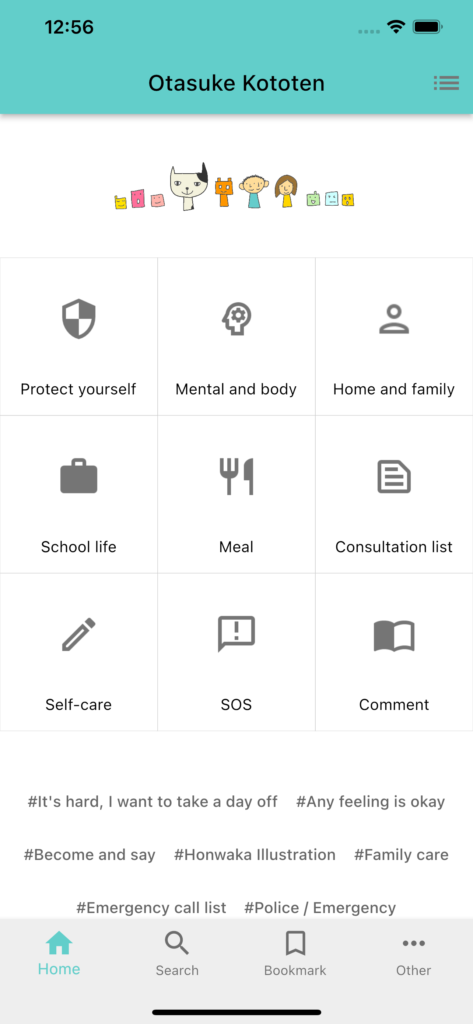 To teens
For those who are a little tough situation right now. They feel uncomfortable at home, then don't want to talk to adults …We want them to use our wisdom and ingenuity. We put the wisdom for that into the app.
To adults
We made this app because we wanted children to know about their problems and self-care. Things that are difficult for parents and family to tell. We aimed for supporters to be able to tell their children, "There is such an app, it says xxx."
Feature
You can read the necessary information in the encyclopedia.
Encyclopedia table of contents
Protect yourself
Mental and body
Home and family
School life
Meal
Consultation list
Self-care (custom)
SOS
Comment (from Chiaki)
Search
You can search the contents of the encyclopedia.
Bookmark
You can bookmark the content you need and see only your favorite content.
SOS
You can push and dial an emergency phone number. In the "Troubleshooting list", you can custom-register the person, place, and phone number to contact in case of a pinch. 110, 119, phone numbers at the time of damage, etc. are registered. (Only in Japan)
Tag
Some tags are set in advance. A tag is displayed on the top page, and when you tap it, a list of wisdom with that tag embedded will appear. The tag list on the top page changes regularly.
Price
Free (with ads)
Anyone can download it for free regardless of age.
Advertisements will be displayed. If you are interested, please wait for the paid version below.
1000 yen (no ads, a word +)
Scheduled to be released in the future
Download

Privacy policy
See privacy policy (Japanese)